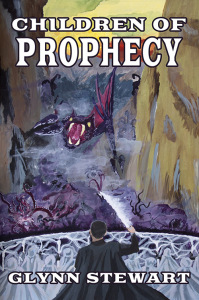 Up until today, this was a super secret project. My husband, author Glynn Stewart, has been working on polishing up some of his old novels (at the same time as he works on current ones!) for sale on Amazon. The ebook for Children of Prophecy is up now, and the print version will be available before Christmas.
An age in the past, the world's two greatest Mages fought a bloody war to a draw that slew them both.
In the time since, the Kingdom of Vishni has known quiet, and the Swarm beyond the mountains has grown in strength and numbers. Now, with the Time of Prophecy at hand, dark forces move to fulfil ancient visions.
Two men, born to poverty but bearing the blood of those ancient Mages, will rise to decide the fate of both Swarm and Kingdom as the fires of this ancient conflict rise anew.
Check out some photos of the painting in progress after the jump.  Read More…