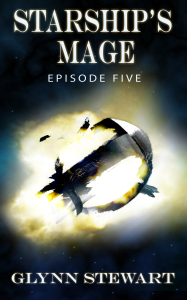 The fifth and final novella in Glynn Stewart's Starship's Mage series will be released December 15, 2014.
OMNIBUS (All Five Novellas): mybook.to/stmageomnibus
EPISODE 5: mybook.to/starshipsmage5
Ship's Mage Damien Montgomery and the crew of the Blue Jay have run to the edge of the Protectorate, beyond the reach of civilized law.
But even at the outlaw station of Darkport, their enemies have sought them out – and now the very leader of the galaxy's largest crime syndicate pursues them with a stolen warship.
With their backs to the wall, the Blue Jay's crew must seek any edge to survive, for one thing is certain:
This will end in fire.