It's February 1, so the art show that "Reaching" was showing at (Return of the Light at the LoveCraft Gallery) has just been taken down. The installation can be set up on any indoor wall, and serves as a reminder of both our aspirations and challenges, as people who struggle with mental health, chronic illness, or physical disability.
The idea for this piece came from an earlier work, and as I was editing/rewriting the written notes to post online with my photos, I realized that I could come back to it with a lot more nuance now, given my more recent experience with chronic pain and anxiety. And the resulting piece did seem to resonate with a lot of people (but maybe especially my fellow artists). My fondest memory from the gallery opening is probably when one person came up to me to tell me about their reaction to the piece. They told me that they had looked at the artwork, read the accompanying statement, and immediately said: "Jerk."
It's my hope that this piece helps to provide more words that people struggling with health problems can use to describe our world to the more healthy people around us. Any feedback you have, or any stories you'd like to share are most welcome.
My Artist's Statement: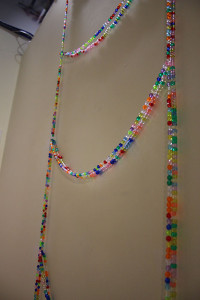 A touch of the unreal can help us better understand our fellow human beings, and that's the premise that guides me as I explore fantasy, folklore and metaphor in my paintings and site-specific installations. So many of the stories we were brought up with from childhood still deeply resonate with our current selves, and our empathy is inspired when we see those stories play out in front of our eyes.
"Reaching" is a beadwork installation that attempts to capture a feeling that you may not be familiar with if you haven't struggled with your mental health, a chronic illness, or a physical disability. That feeling of seeing something that you want to accomplish—or a place that you want to get to—and having an obstacle in your path that no one else can see.
Through "Reaching," you can see the path that could lead you there: tantalizing, bright, shimmering, like the acrylic beads that comprise the installation. In some ways, the ladder it creates is a symbol of hope, but you know that if you were to reach out to climb it, it would break—and you would be surrounded by a cascade of falling beads.
The LoveCraft Gallery in Southeast Calgary is across from Elliston Park, and is easily accessible from downtown Calgary via Memorial Drive. Hours are Tuesday – Friday, 12pm to 9pm, and Saturday 11am to 7pm.